Daniela
Cicioni
/// V O C A Z I O N E N A T U R A L E ///
"Nature cherishes huge gastronomic potentials".
A conversation with Daniela Cicioni, Italian guru
of vegan and raw food haute cuisine, interviewed
by Eleonora Polacco, during the preparation of
the master menu created exclusively for Ossigeno.
Photo credits: Luca La Vopa.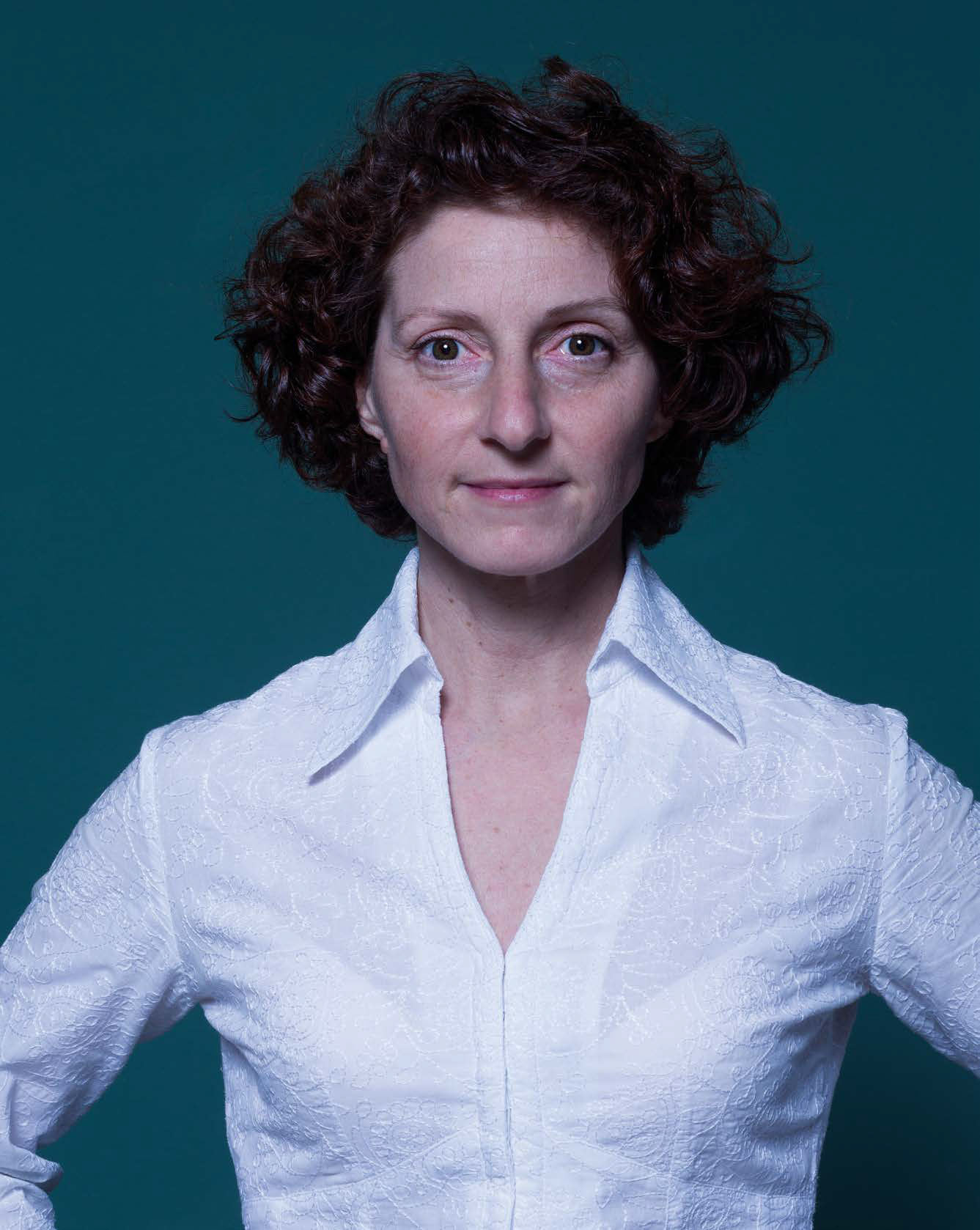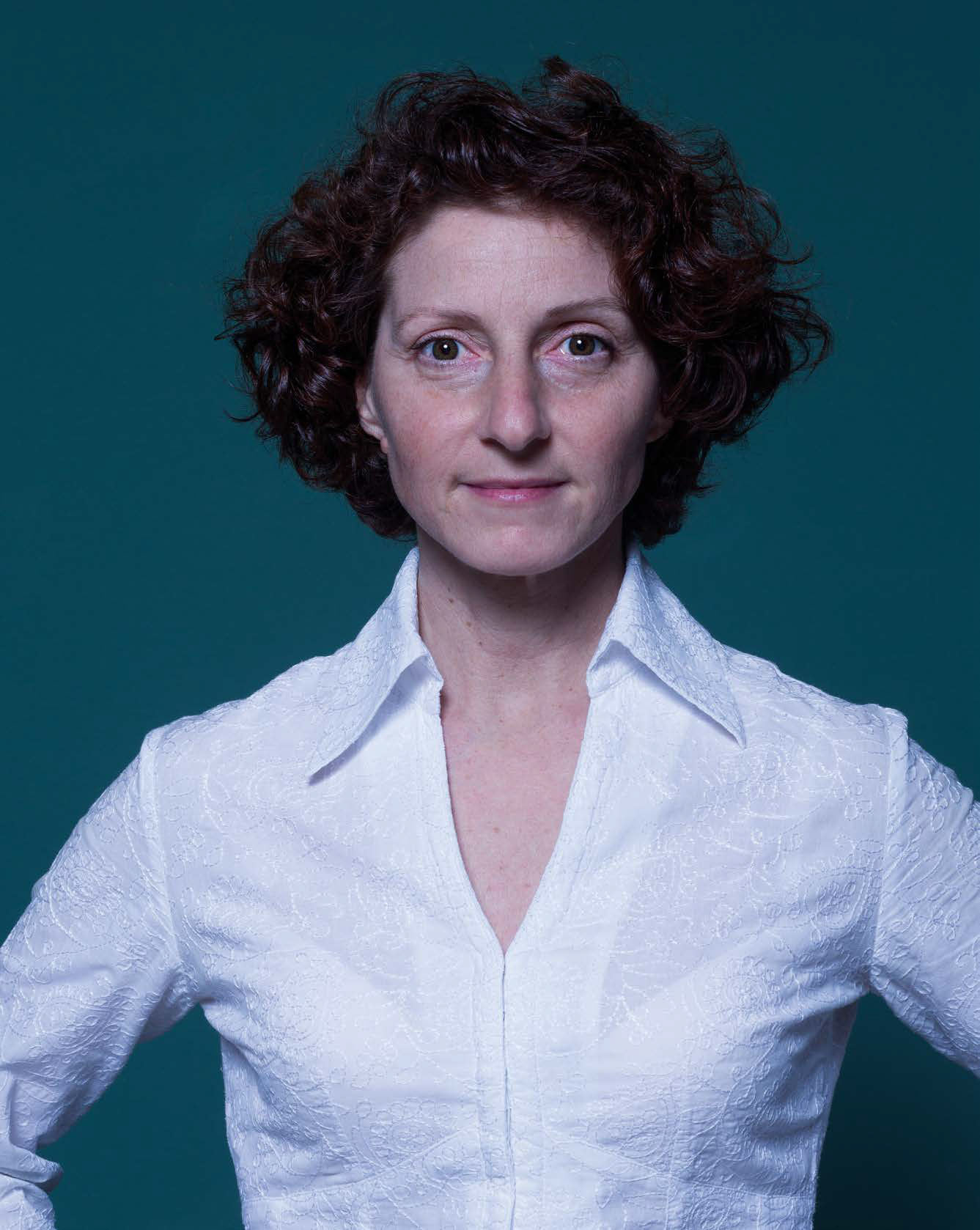 credits & courtesy Ritratto d'Autore: Mustafa Sabbagh
---

Natural is not artificial, not altered,
genuine, but also all that is spontaneous and innate.
There is no more appropriate adjective to
define not only Daniela Cicioni's cuisine,
but also her story and identity.
Indeed, because we are not just talking about
a cuisine that focuses on the balance of
nature, but also a way of life that follows a
natural tendency, grown and cultivated over
time with dedication and passion.

---
Daniela Cicioni, a particular story, from landscape architect to cook specialised in raw food and vegan cuisine.
Tell us what happened.
"It all started as a matter of gluttony; I always liked eating, and many years ago I timidly approached vegan food, but then there was neither the culture nor the sensitivity to this type of cuisine yet. It was also very difficult to find the ingredients.
Then a few years later I was invited, by chance, to a dinner at La Sana Gola, macro-bio-vegan restaurant of Milan cooking school. I ate good dishes, tasty and rich, from appetisers to desserts (fried food included) and at the end of the meal I felt light and energetic.
And so I felt this passion growing inside me, a passion for raw and vegan food to the point of leaving my job as an architect and starting to attend the first few courses in soft way. Then I enrolled in an annual training program to get a diploma as a 'natural cook'.
Since 2007, and for 5 years, I was the chef of the Centro Botanico bio restaurant in Milan. This experience was so much enriching and I was able to experiment and test the most appealing, digestible and lightest dishes.
Today, I work as a freelance cook, consultant and teacher of vegan and raw food cuisine."
Raw food and cooking/non-cooking techniques, such as fermentation, drying, marinating, and pressing.
Can you explain it better?
"In raw foodism, everything you eat must not have been heated above 42/45°, so raw food cooking consists in preparing foods using simple techniques that do not involve the use of heat, such as the fermentation, drying, marinating and pressing.
Thanks to fermentation, food is better digested and a source of health because once fermented, it helps to strengthen the immune system. This old food preservation technique is also part of the Italian cooking culture (originally, the Giardiniera or pickled vegetables was nothing more than fermented vegetables preserved in a brine of salt and water).
For example, by fermenting oilseeds (such as cashews or macadamia nuts), you can prepare creams with a texture similar to that of cottage cheese, or leave seeds to mature in the fridge after drying them for a short time in the roaster.
Drying makes food crunchy. You can prepare fruit and vegetable wafers to nibble as chips, or tasty crackers of pumpkin or sunflower seeds.
Marination is the process to let vegetables soak in a brine of water, salt or vinegar, soy sauce, spices and herbs for half an hour or an hour. By keeping food in the same marinade brine and placing a weight over the food, as per the pressing technique, flavours are concentrated and enhanced."
Many people think that raw foodism or vegan food means healthy food but not palatable or enjoyable for the senses.
How do you respond to this scepticism?
"By making people taste my dishes and stimulating the throat canal. This type of cooking awakens a different taste sensitivity, a more receptive one. After a while, flavours become intense and rewarding. Getting used is a gradual process that requires reducing the amount of impoverished, processed and industrially treated food that we eat."
Photo credits: Luca La Vopa
O à la carte
A master menu, created exclusively for Ossigeno and prepared live by the guest chef of this issue.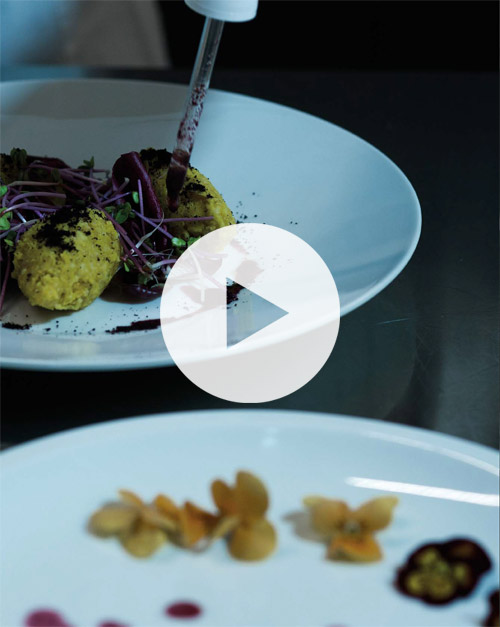 Millet and pumpkin with sprouts, toasted almonds and aÇai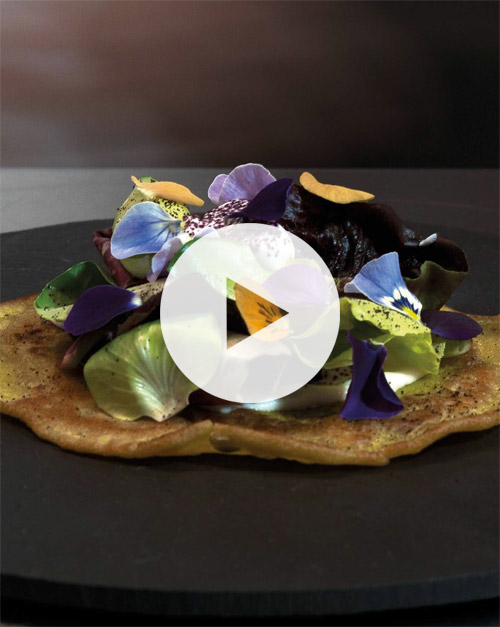 Chickpeas farinata with curcuma, mixed chicory, vegetable yoghurt and aÇai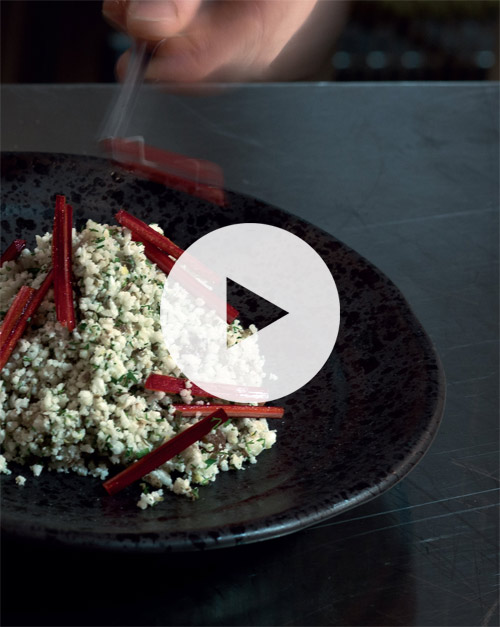 Raw cous cous of cauliflower and almonds
Broccoli ball, avocado and almonds with pink chicory and fresh curdle sour cream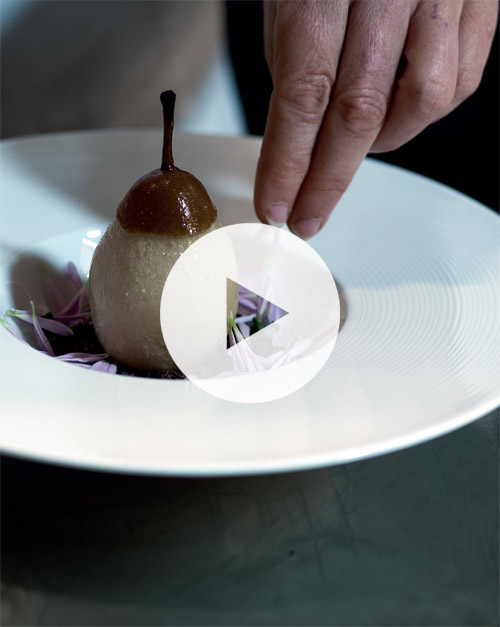 Cooked pear, ginger, lemon thyme and chopped Modica chocolate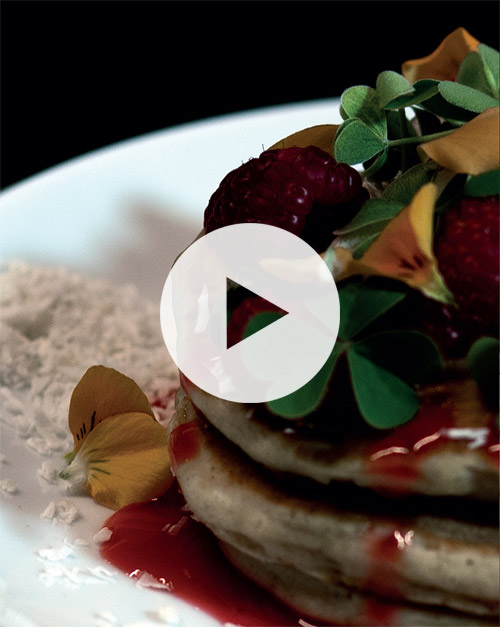 Pancakes and red fruits with coconuts flakes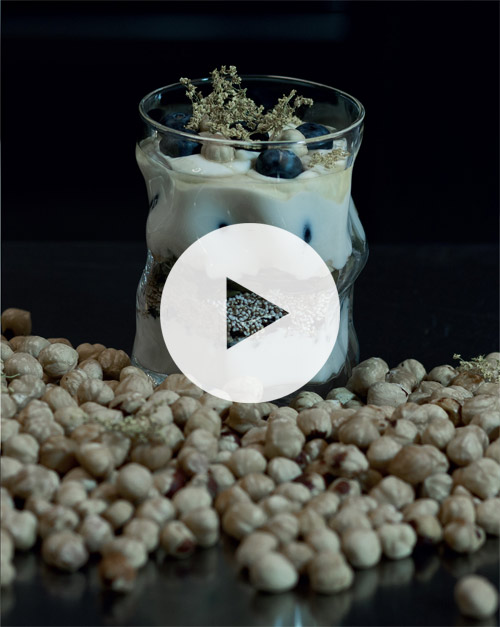 Yogurt vegetale, amaranto soffiato, semi misti e mirtilli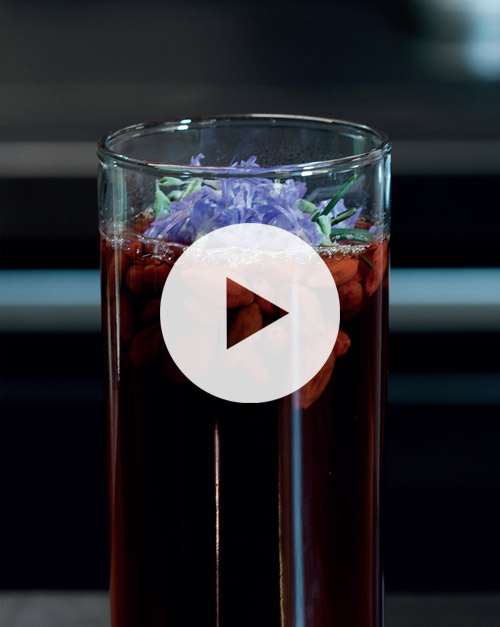 Hibiscus, goji berries and rosemary infusion
Castelluccio Lentils in salad with strips of julienne of red cabbage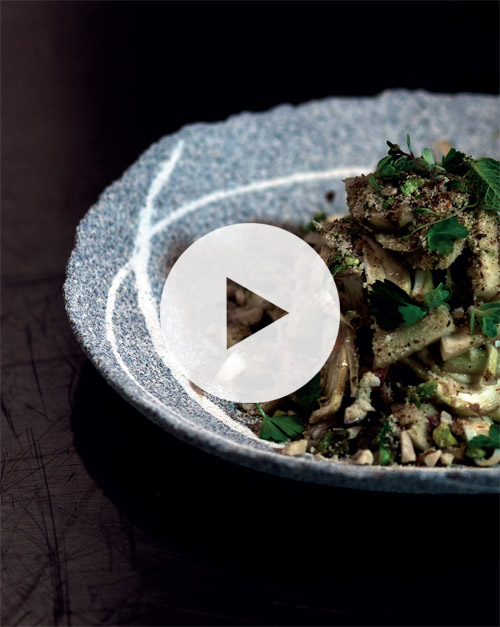 Raw artichokes with aromatic herbs with French dressing and spicy chopped almonds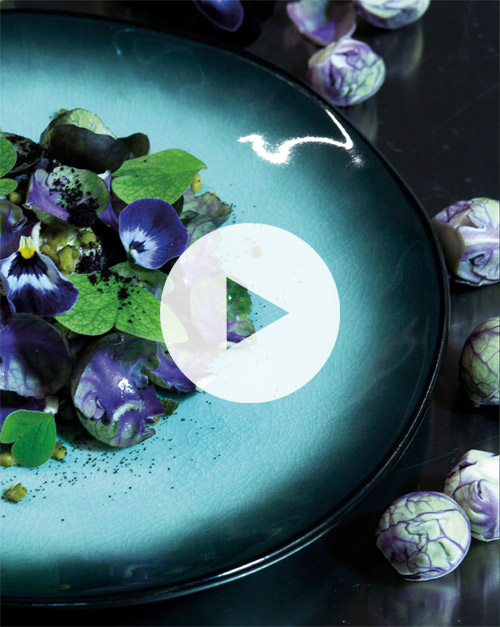 Red Brussels sprouts with pistachios, flowers and aÇai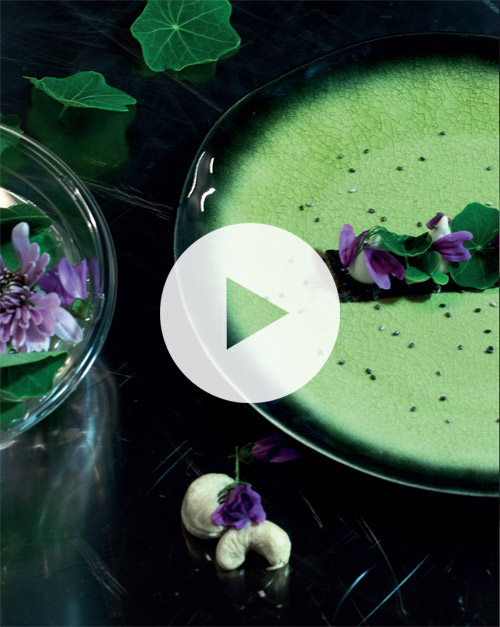 Cashews fresh curdle and black sesame cracker